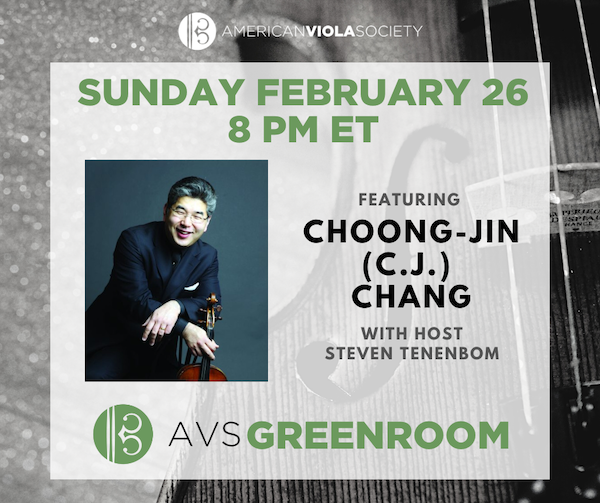 29 Jan

AVS February Greenroom with Choong-Jin (C.J.) Chang

Please join us in the AVS Greenroom as we welcome Choong-Jin (C.J.) Chang, Principal Violist of the Philadelphia Orchestra and faculty member the Peabody Conservatory of Music and the Aspen Music Festival and School!

Sunday, February 26, 2023
8:00pm Eastern Time
Live via Zoom


Each month, the AVS invites a notable violist into our virtual "greenroom" for an informal live discussion, with a Q&A opportunity for participants.  Our series is curated and hosted by Steven Tenenbom.

The AVS proudly provides this series free of charge to current members as a benefit of membership. Registration for the general public is $15. Following the event, all registrants  receive a link to the event recording to view at their convenience. Please join us!

About Choong-Jin (C.J.) Chang:

A native of Seoul, Korea, Choong-Jin (C.J.) Chang became principal viola of The Philadelphia Orchestra in 2006 after having joined the Orchestra in 1994. He made his performance debut as a 12-year-old violinist with the Seoul Philharmonic as winner of the grand prize in Korea's Yook Young National Competition. In 1981, at the age of 13, he moved to the United States to attend the Juilliard School of Music. He subsequently studied in Philadelphia at the Esther Boyer College of Music of Temple University and at the Curtis Institute of Music, from which he received degrees in both violin and viola. His primary teachers were Jascha Brodsky and retired Philadelphia Orchestra Principal Viola Joseph dePasquale.

Mr. Chang made a successful solo debut recital at Carnegie Hall in 2007 and since then has appeared in numerous recitals in the United States and South Korea. In 2008 he was featured as a soloist with The Philadelphia Orchestra during its Asian Tour, performing in Seoul and Shanghai, and its summer residency at the Saratoga Performing Arts Center. He made his Philadelphia Orchestra subscription solo debut in 2009 and since then has been a frequent soloist with the ensemble including last season's performances of Bartók's Viola Concerto. In 2013 Mr. Chang planned the Bach and Hindemith Project, which included all 19 pieces from both composers and was performed in four recitals over a year at the Kuhmo Arts Hall in Seoul. As a chamber musician, he performs with the world's great musicians at many prestigious festivals throughout the United States and Asia.

Mr. Chang is a founding member of the Johannes Quartet, whose debut performances at Philadelphia's Ethical Society and at Carnegie Hall in New York City received glowing reviews. Since 1997 the Quartet has performed to audience and critical acclaim throughout the United States. The Quartet recently premiered Esa-Pekka Salonen's new quartet, Homunculus, and William Bolcom's new octet, Double Quartet, with the Guarneri Quartet.

Alongside his extensive performing activities, Mr. Chang is a respected teacher on both violin and viola. Among his former pupils are members of The Philadelphia Orchestra and the Cleveland Orchestra, as well as many winners of major competitions. He currently serves as the viola professor at Johns Hopkins University's Peabody Conservatory of Music and as an artist/faculty at the Aspen Music Festival and School during the summer.