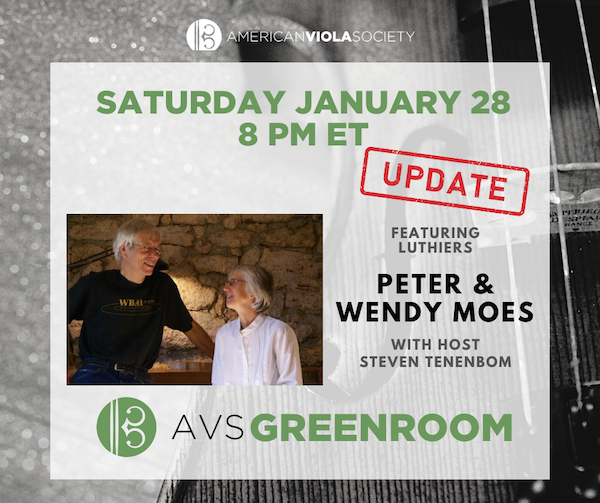 20 Dec

AVS Greenroom with Peter and Wendy Moes

Please join us in the AVS Greenroom as we welcome luthiers Peter and Wendy Moes!

Saturday, January 28, 2023
8:00pm Eastern Time
Live via Zoom
Please note the special time for this event.

Each month, the AVS invites a notable violist into our virtual "greenroom" for an informal live discussion, with a Q&A opportunity for participants.  Our series is curated and hosted by Steven Tenenbom.

The AVS proudly provides this series free of charge to current members as a benefit of membership. Registration for the general public is $15. Following the event, all registrants  receive a link to the event recording to view at their convenience. Please join us!

About Peter and Wendy:

Peter Moes (rhymes with shoes) is the son of Dr. Moritz Moes from Amsterdam, Holland and Inge Baerthlein the daughter of Dr. Karl Baerthlein, eminent Professor and doctor from Wuerzburg, Germany. Peter was born in 1946 in Seeshaupt, Bavaria. After studies at the Technical University of Munich he entered violin making school in spring of 1972.

Wendela Moes, was born Wendela Taylor in 1949, the daughter of a Harvard professor father and physicist mother in Boston, Massachusetts. She entered violin making school in the fall 1971 after her studies at the University of Wisconsin in Madison.

Wendela and Peter Moes met and married while attending the Violin Making School in Mittenwald, Germany and received journeyman's diplomas after the 3½ year program in 1975. After graduation they worked for Hans Weisshaar in Los Angeles where they gained expertise in instrument restoration and repair. In 1978 they moved to England and went into partnership with a London dealer and expert, Peter Biddulph. This partnership was dissolved in October 1981 after the birth of their first child. They then moved to New York City to open their own violin shop, MOES & MOES Ltd., later at 225 W. 57th Street, within view of Carnegie Hall. They were to remain working in New York City for 10 years.

In addition to repairs, restoration and sales of fine old instruments, the Moes's always specialized in making new instruments that are now played by orchestral and solo musicians around the world. Among those are Yo-Yo Ma and Hilary Hahn.