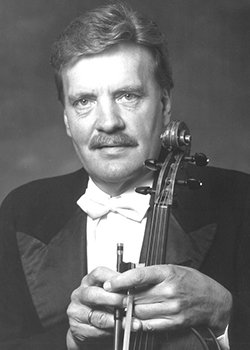 David Dalton
(1986-1990)
Dr. David Dalton is professor emeritus of viola at Brigham Young University in Provo, Utah (USA). He earned his B.M. and M.M. degrees in violin at the Eastman School of Music, where his interest in viola was awakened by Francis Tursi. After meeting William Primrose, he switched to viola and received his doctorate in performance at Indiana University. Dr. Dalton collaborated with Primrose in writing his memoir, Walk on the North Side and Playing the Viola: Conversations with William Primrose, published by Oxford University Press. He also produced two documentaries, "A Violist's Legacy," and "William Primrose, Violist." Primrose and he were co‐founders of the Primrose International Viola Archive (PIVA) at BYU, the largest and most important repository of materials related to the instrument. Dr. Dalton's editions for viola have been published by C.F. Peters, Oxford, G. Schirmer, Eschig, Doblinger, and Rarities for Strings. His numerous articles have appeared in professional journals, such as The Strad. Dalton served as president of the American and International Viola Societies, as well as editor of the Journal of the American Viola Society. Retired, he no longer performs as soloist or chamber musician, but teaches, lectures, researches in PIVA, and pursues family history.
In 2013 in Krakow, Poland, the International Viola Society awarded Dr. Dalton the "Golden Viola Clef," the Society's highest honor for his distinguished and unique contributions to the viola. This award has been given only once before in the past 50 years. At the presentation, the following were cited among his unique achievements:
Third president of the American Viola Society
First president of the newly-formed International Viola Society in 2000
Host of  IVC VII in 1979, in Provo, Utah, USA
Founder, Primrose International Viola Competition, and organizer and host of the initial competition, Snowbird, Utah, 1979
Author of an historic interview with Tibor Serly, who resurrected the Bartók Viola Concerto from the deceased composer's sketches
Third editor of the AVS Newsletter, Dalton expanded it into the Journal of the American Viola Society and was the first JAVS editor
World's foremost Primrose scholar: collaborator with the great violist on two books, Walk on the North Side, Primrose's memoirs, and Playing the Viola—Conversations with William Primrose, and two television documentaries on Primrose, A Violist's Legacy and Primrose in Recital
Co-founder and first archivist of the Primrose International Viola Archive and the person responsible for raising funds, designing, and furnishing the Primrose Room, the gallery and storage area of the PIVA.
Honors include: Maurice Riley Viola Award (initial presentation); International Viola Society Silver Viola Clef; second-ever recipient of the International Viola Society GOLD Viola Clef, and in 2022, recipient of the Dwight Pounds Award for Lifetime Distinguished Service to the AVS.