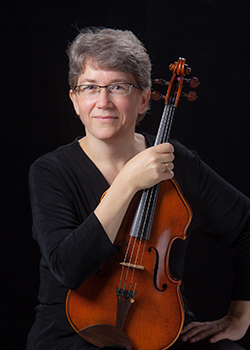 Kathryn Steely
(2014-2017)
Dr. Kathryn Schmidt Steely is Professor of Viola in the School of Music at Baylor University, from which she received the Outstanding Tenured Professor Award for Teaching in 2007. She has been a featured presenter at the American String Teachers Association National Convention and has presented master classes across the country, including two guest residencies at the Oberlin College Conservatory.
Formerly a core member of Florida's Jacksonville Symphony Orchestra, Steely has performed with the Joffrey Ballet of Chicago, Fort Worth Symphony, Dallas Chamber Orchestra, Fort Worth-Dallas Ballet, Akron Symphony, Ohio Chamber Orchestra, Wichita Symphony, and as principal violist with the Rockford (IL) and Waco (TX) Symphonies.
Dr. Steely is also an avid chamber musician and founding faculty member of the Credo Chamber Music summer festival in Oberlin, Ohio. She frequently collaborates with colleagues in performances across the country, including appearances at several International Viola Congresses, American Viola Society Festivals, National Flute Conventions as a member of the Brazos Ensemble, the Mostly Music series of the University of Chicago, and the Armonico Chamber series of the Austin Chamber Ensemble. Her 2010 release of the Flackton Viola Sonatas on MSR Classics was praised by Fanfare as "a delight".
Dr. Steely has served as President of the American Viola Society (AVS) and Editor of the Journal of the American Viola Society, two previous terms as a member at large of the AVS national executive board, and nine years as AVS webmaster. She has been honored to receive the American Viola Society's Maurice Riley Award in 2006, the Founder's Award in 2010, and the American Viola Society's Distinguished Service Citation in 2018. Steely holds degrees from Bethel College, the Cleveland Institute of Music, and Northwestern University.