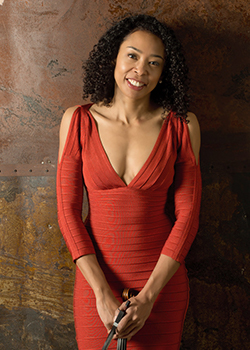 Nokuthula Ngwenyama
(2011-2014)
"Mother of Peace and "Lion" in Zulu, Nokuthula Ngwenyama's performances as orchestral soloist, recitalist and chamber musician garner great attention. Gramophone proclaims her as "providing solidly shaped music of bold mesmerizing character." As a composer, Uptown Magazine featured her "A Poet of Sound."
Ms. Ngwenyama gained international prominence winning the Primrose International Viola Competition at 16. The following year she won the Young Concert Artists International Auditions, which led to debuts at the Kennedy Center and the 92nd Street 'Y.' A recipient of the prestigious Avery Fisher Career Grant, she has performed with orchestras and as recitalist the world over.
Recent highlights include joining the Emerson Quartet at Alice Tully Hall and the premieres of Rising for Solo Multitrack Violin and Pedals and Primal Message for Viola Quintet – performed with the Dover Quartet and jointly commissioned by the Phoenix Chamber Music Society and Chamber Music Northwest. Her viola concerto, recorded with the Janacek Philharmonic is to be released on Peace Mama Productions (PMP) in 2020.
During the 19-20 season Ms. Ngwenyama also joins violinists Jaime Laredo and Pamela Frank, cellists Sharon Robinson and Keith Robinson, and violist Milena Pajaro-van de Stadt in the premiere of Sexigesimal Celebration, written in commemoration of the 60th anniversary of the Phoenix Chamber Music Society. She performs and records both Brahms Sextets with the same ensemble and forms umama womama with fellow composers and instrumentalists Valerie Coleman and Hannah Lash, which debuts and premieres a jointly written trio commissioned by Chamber Music Northwest, Phoenix Chamber Music Society and Clarion Concerts this season and in 20-21.
Ms. Ngwenyama has performed at the White House and has testified before Congress on behalf of the NEA. An avid educator, she served as visiting professor at the University of Notre Dame and Indiana University. She also served as director of the Primrose International Viola Competition and as president of the American Viola Society. She is currently curator of Composer's Choice, a co-production of ASU/Kerr Cultural Center, Phoenix Chamber Music Society, and PMP. It features 21st century music and its creators from concert hall to games, film and beyond.
Born in Los Angeles, California of Zimbabwean-Japanese parentage, Nokuthula Ngwenyama (No-koo-TOO-lah En-gwen-YAH-mah) read notes before words and studied theory and counterpoint under Dr. Herbert Zipper, Mary Ann Cummins and Warren Spaeth. As a Fulbright Scholar she attended the Conservatoire National Superieur de Musique de Paris and received a Master of Theological Studies degree from Harvard University. While studying at the Curtis Institute of Music her theory teachers included Edward Aldwell, David Loeb and Jennifer Higdon. She is the first composer in residence of the Phoenix Chamber Music Society. Ms. Ngwenyama's playing equipment includes an Antonius and Hieronymus Amati viola from 1597, on permanent loan from the Biggs Collection.