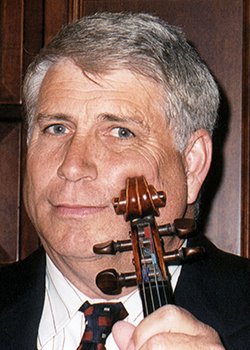 Thomas Tatton
(1994-1998)
In 2008 Dr. Thomas Tatton retired as string specialist with the Lincoln Unified School District in Stockton, California. Formerly violist and director of orchestras at Whittier College and the University of the Pacific, he holds a D.M.A. from the University of Illinois. He served as president of the American Viola Society from 1994 to 1998 and from 2006 to 2009 served as vice-president of the International Viola Society. Dr. Tatton currently serves as Board Member for the Northern California Viola Society and editor for the Retrospective column in the Journal of the American Viola Society. He has performed, lectured and conducted youth orchestras throughout North America, South Africa, Canada and Europe. He has also served as a solo string, chamber and orchestral adjudicator in Illinois, Nevada and throughout California, most notably as lead string adjudicator for Bay Area CMEA.
Dr. Tatton served as the first Master Teacher for the California State University-Sacramento String Project; his monograph on first year string teaching, Connecting the Dots, was published in 2003. He twice served as the Orchestra Representative for the California Music Educators Association, twice as president of the California Chapter of the American String Teachers Association and president of the California Orchestra Directors Association.
As a leading authority on viola ensemble literature he authored the chapter on viola ensembles found in Playing and Teaching the Viola: A Comprehensive Guide to the Central Clef Instrument and Its Music, published in 2005 by the American String Teachers Association; he has led viola ensemble classes, projects and performances worldwide. He authored the definitive article on the life and viola ensemble works of British composer Kenneth Harding, the authoritative review of the many different viola editions of J.S. Bach's cello suites and the recent groundbreaking article on the history of the Walton Concerto for Viola. His frequent articles on string pedagogy and public school music education can be read in the California Music Educators Magazine. He remains active as a performer, clinician, guest conductor, writer and adjudicator.
In 2005 the California Music Educators Association named Dr. Tatton "Orchestra Educator of the Year" and in 2011 the CMEA Bay Section honored him as the "Outstanding Educator of the Year". In 1999, the American Viola Society honored Dr. Tatton with the Maurice Riley Award for Distinguished Service to the Viola and to the American Viola Society and, in 2004, the International Viola Society awarded him the "Silver Alto Clef." In 2021, the American Viola Society named him a recipient of the Dwight Pounds Award for Lifetime Distinguished Service Contributions to the AVS.
Currently he and his wife Polly are enjoying living on California's central coast.