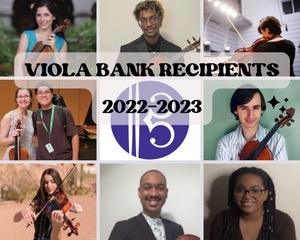 11 Oct

2022-23 AVS Viola Bank Recipients Announced!

The AVS is happy to announce the deserving student recipients of AVS Viola Bank instruments and bows for the 2022-2023 school year:

Bryant Alcorn
Katie Baird
Teddy Froelich
Adrian Jackson
Emma Kincaid
Santiago Paez
Niloofar Sohi
Ana Tovo
Nayyirah Wood

Please read below for recipient bios.

Bryant Alcorn is a violist from Columbus, Georgia. His viola journey began in the Youth Orchestra of Greater Columbus in 2016 as its principal violist for two years. Since graduating from high school and from the youth orchestra program, he has continued his studies at the Schwob School of Music at Columbus State University. Now in his junior year, he is primarily studying Viola Performance under the guidance of Dr. Katrin Meidell, with secondary studies in Music Composition and Jazz Studies. When Bryant isn't practicing his scales or working on a sketch for a new viola piece, he can be found tending to his garden or honing his baking skills in the kitchen!

"I am tremendously grateful to the AVS for the opportunity to play on such a gorgeous instrument; for a long time, I thought being able to have such a high quality viola would not be achievable for a variety of reasons, but the AVS has made it feasible! The sound and colors that this viola is able to produce are just unbelievable. This new viola has sparked a new love for the instrument and I am so excited to explore new techniques and concepts on it. I am particularly excited, as I am beginning to perform more difficult repertoire, to show audiences a brand new violist on a viola that can showcase my musicality and musical intention properly and I cannot thank the American Viola Society for offering such an opportunity to students such as myself.
---
 Katie Baird is a violist from Tucson, Arizona. Currently a junior, she is pursuing a Bachelor of Music in Viola Performance under the tutelage of Dr. Molly Gebrian at the University of Arizona. With a love for ensemble playing, she has played with the Arizona Symphony Orchestra, the Meraki String Quartet, and the Desert Violas, the viola ensemble at the Fred Fox School of Music.
 "Playing on a quality instrument from the AVS Viola Bank has been tremendous in furthering my education. Not only have I enjoyed practicing more, but the quality of sound has allowed me to delve into more advanced techniques that I would not have been able to explore otherwise. I am constantly in awe of the colors and dynamics this viola can produce. These technical capabilities have given me the confidence to participate in concerto and solo competitions, produce home recordings of solo works, and start personal music projects. 
Using this instrument has impacted my entire future. Without the generosity of people's donations, I would not have been able to pursue my degree in viola performance, and for that I am forever grateful. As a first-generation college student, this is helping me achieve my goals of higher education. There are no words to sufficiently describe the extent of my gratitude for this wonderful organization and the person who generously donated this viola."
---
 Violist and violinist Teddy Froelich from Loudoun County, Virginia is currently a graduate viola performance major attending the Aaron Copland School of Music at Queens College, studying with Brett Deubner and Daniel Phillips. He has participated in masterclasses led by Midori Goto, Kristof Barati, Stephen Rose, Richard Young, Luosha Fang, the Berlin Philharmonic Piano Quartet, and members of the Aeolus and Dali quartets. His past summer engagements include the National Orchestral Institute and Festival and a Quartet Fellowship position at the Dali International Music Festival, both on full-tuition scholarship. Teddy also studied abroad in London at Trinity Laban Conservatoire in 2019 with Royal Academy of Music violin professor Diana Cummings.
View Teddy's AVS Viola Bank testimonial here.
View Teddy's most recent performance with his Viola Bank instrument here.
---
With the help of the AVS Viola bank's generous donation, Adrian Jackson has been able to perform as the principal violist of the Eastman Opera Orchestra, Credo Quartet Fellowship program and section violist in the Southern Tier Symphony. Adrian had attended esteemed festivals like the Interlochen Arts Camp, Texas Strings Camp, Castleman Quartet Program, and the Encore Chamber music Festival. Adrian is extremely proud to be the second recipient of the Cayuga Chamber Orchestra Diversity fellowship and excited to see the opportunities that come from it.
---
Emma Kincaid is from Nashville, Tennessee. Throughout high school her teacher, Anna Maria Miller, saw potential in her and inspired her growth as a musician. She encouraged Emma to take private lessons, to compete in state competitions, and provided a space to explore various other small ensembles, which sparked her love for music and performing. Once she realized her passion for music, she then went to further her studies with Hillary Herndon at The University of Tennessee in Knoxville. She is currently a sophomore pursuing a Bachelor's degree in music performance, with secondary studies in cello performance. Since coming to Knoxville, Emma has found that she enjoys playing in various ensembles, teaching through the UTK String Project, and being a member of the Knoxville Repertory Orchestra, a student-led chamber orchestra.
---
Santiago Paez is a Colombian-American violist in Katy,Texas. His love for music ignited in the beginning of 7th grade where he realised his immense passion and love for music. After graduating middle school he further developed his studies as a violist with Nico Valencia. Nico Valencia studied with Susan Dubois at UNT and is now completing his masters at USC with Yura Lee. Santiago's teacher has been the biggest influence in his development as a musician and it has also taught him invaluable life lessons on top of that. After graduating Middle school his hunger for further growth in music led to him competing in TMEA region and All-State. His grand realisation of how beautiful music can be led him to audition for his youth orchestra HYS(Houston Youth Orchestra). From the years 2019-2021 he has been principal in Sinfonia and the Philharmonic Orchestra in HYS. In the summer of 2022 he attended ISMI (International Summer Music Institute) where he competed in the ISMI Concerto Competition and won 1st Prize.
"I am extremely grateful and happy for finally being able to play on a very fine instrument. For the longest time I had been playing on a manufactured instrument that was really inadequate for my playing level and was a big limiting factor in my playing and growth. Luckily the AVS has provided me with a fine instrument, something that I would have never imagined was possible. The viola I received was a 1988 Scott Cao Viola that has opened up beautifully. This viola has an incredible facility of being able to sing. It produces a very deep tone in the lower registers and projects very well in the high registers when needed to. The thing I most like about the viola and one of my favourite things to experiment with instruments is colours. This viola produces such a beautiful variety of colours that were just purely non-existent on my old viola. There is really nothing better I could have asked for and I am forever bound with gratitude for the AVS providing me with such a fine instrument."
---
Niloofar Sohi is an Iranian musician and violist based in Minneapolis. She was born and raised in Tehran. Currently, she is getting her DMA (Doctor of Musical Arts) in viola performance at the University of Minnesota. Niloofar, the award winner of the 10th National Youth Music and former violist of the Shahrzad Ensemble has experience working with various American, European, and Iranian orchestras, including the Quad City Symphony Orchestra, Puccini Festival Orchestra and Tehran Symphony Orchestra. She will also perform a solo piece with the Mississippi Valley Orchestra in February.
She is one of the co-founders of LyreIran, a collaborative focusing on promoting strings-related performance and education content, holding free master classes and workshops with great pedagogues and musicians to make music education accessible for everyone, especially Middle Easterners.
"I feel lucky and happy that I am among the recipients of the AVS's violas. This beautiful viola will be a great asset and help me find my way into the professional music world. Soon, I will be graduated from the University of Minnesota School of Music with a DMA degree and will start auditioning for orchestras and teaching jobs. I could not thank enough my teacher Korey Konkol and the American Viola Society for easing my path toward my professional musicianship. Their support will not only affect me, but also it will affect the music society. Nowadays, I feel more passionate about teaching and playing in different ensembles and even playing as a soloist. In my first concert with this viola, I will play Persian songs and music for the Twin Cities audience. The music society of the TC will become more diverse by empowering international musicians such as myself."
---
After completing her undergraduate degree in violin and  working as a freelancer violinist in her native town of Porto Alegre, Brazil, Ana Tovo became a violist in a serendipitous way. When offered an assistantship in viola performance at Central Michigan University,  she took the chance and switched to viola. Ana is currently working on her DMA under Dr. Molly Gebrian at the Fred Fox School of Music at the University of Arizona. Previous professors include Dr. Alicia Valoti and Dr. Katrin Meidell.
"I'm very thankful for the opportunity to get an instrument from the AVS viola bank. I had not planned on being without an instrument, and being able to rely on the AVS viola bank was a lifeline I when needed it most."
---
My name is Nayyirah Wood, I am a Music Education Major with a Psychology minor at Rowan University. Throughout my Viola career, I had a viola that wasn't the best size for me, and with the Viola Society, I could play with an instrument meant for me. At first, I wasn't sure I was genuinely getting a quality viola in my hands, and I appreciate the opportunity that the Viola Society gave me. I have played many great performances and solo reps. My performance level with this viola compared to my own is 10 times different and I feel more comfortable and confident in playing now. I hope this will make me a better musician and a better educator in the future.