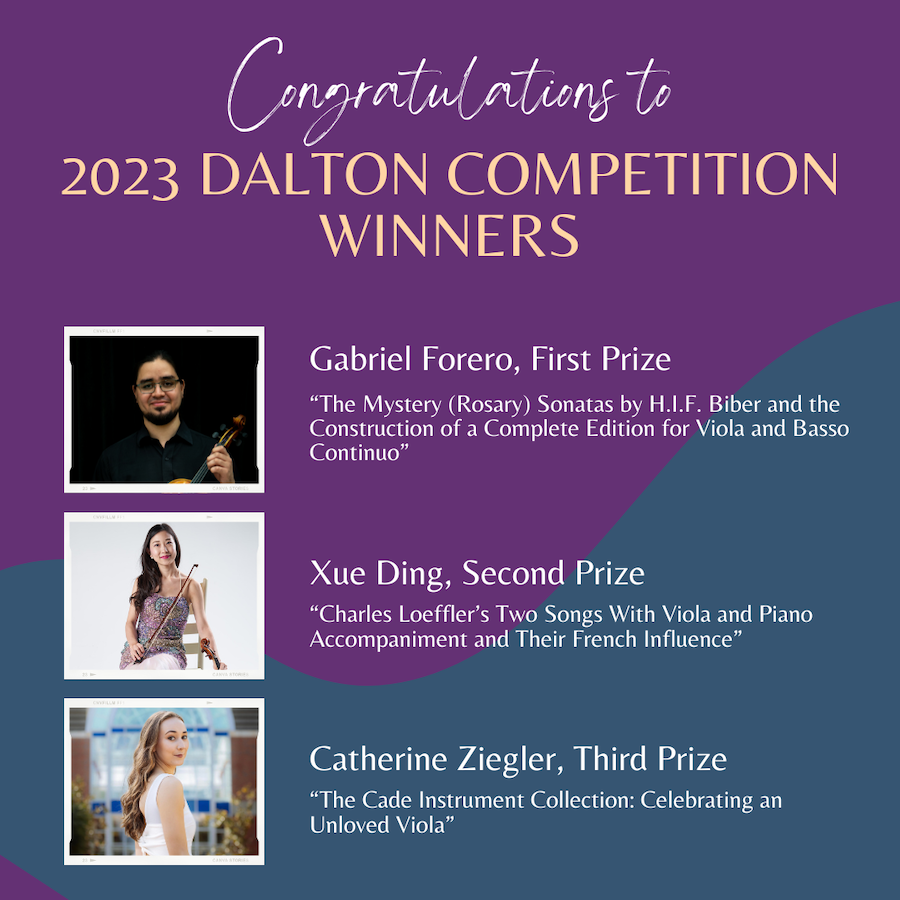 02 Sep

2023 Dalton Competition Winners Announced

2023 AVS Dalton Competition Winners

The AVS Dalton Competition Committee recently reviewed submissions and selected winners for the 2023 David Dalton Viola Research Competition. The level of scholarship was very high in this year's competition, and the committee congratulations all of the entrants for their highly deserving submissions. Winners of the 2023 Dalton Competition are:

First Prize: Gabriel Forero, "The Mystery (Rosary) Sonatas by H.I.F. Biber and the Construction of a Complete Edition for Viola and Basso Continuo"
Second Prize: Xue Ding, "Charles Loeffler's Two Songs With Viola and Piano Accompaniment and Their French Influence"
Third Prize: Catherine Ziegler, "The Cade Instrument Collection: Celebrating an Unloved Viola"

All prizewinners will also have the opportunity to publish their articles in future editions of the Journal of the American Viola Society. Congratulations to this year's prize recipients, and sincere thanks to the Dalton Committee for their work on this year's competition. This year's Dalton Committee members were: Joshua Dieringer (chair), Ames Asbell, Andrew Braddock, Daphne Gerling, and Christina Ebersohl (ex officio).

Guidelines for the 2024 AVS Dalton Competition will be posted in early 2024, and we encourage all student scholars to participate in our upcoming competitions.