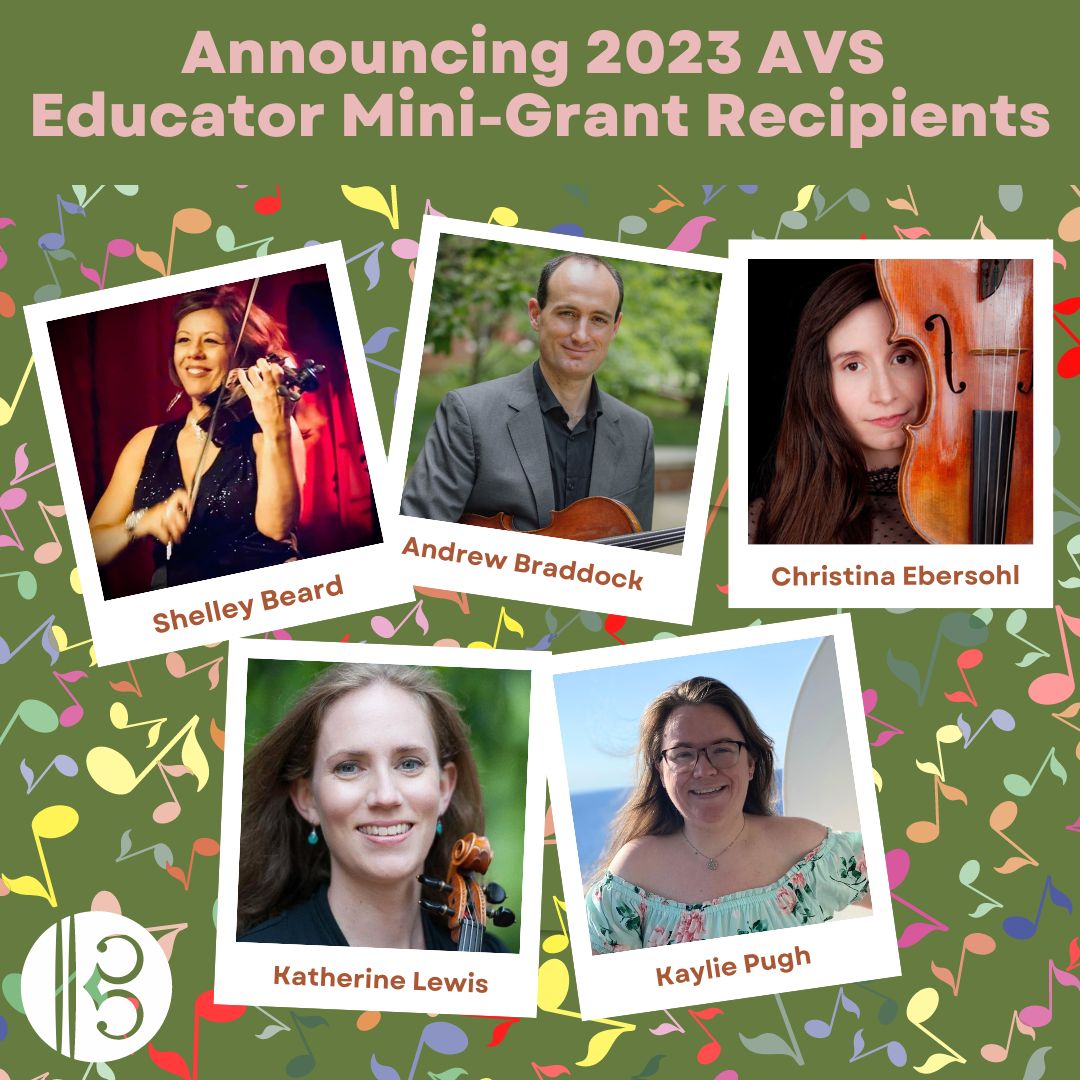 01 Jul

Announcing 2023 AVS Educator Mini-Grant Recipients
The American Viola Society is proud to announce the recipients of our first-ever Educator Mini-Grants. The response to the call for proposals was overwhelming and included many innovative and exciting ideas for important projects across the country. Many thanks to all who applied in this round, and to the AVS Education Committee for taking the time to anonymize and carefully review applications and select recipients.

This pilot program is intended to support viola teachers, helping our valuable educators with funding that they feel would enhance the quality and/or scope of their teaching. In this cycle, grants up to $500 were awarded.

The recipients of 2023 AVS Educator Mini-Grants and their projects are (in alphabetical order):

Shelley Beard is Program Director and Special Arrangement Faculty at Settlement Music School, one of the nation's oldest, largest, and most prestigious community schools of the arts. As a community arts educator, Ms. Beard feels strongly about creating connectivity through distinctive ensemble opportunities and community performances for her students. Her AVS Educator Mini Grant funds will be used to commission and premier a student viola ensemble work which will encompass 21st Century performance techniques, derive from audience association, and compositionally intertwine BIPOC musical references. The composer, Chris Dahlke, is an alum of Settlement Music School, a former student of Ms. Beard, and a recent graduate of Oberlin Conservatory where he studied composition and viola performance.

Andrew Braddock is a violist and professor at Western Kentucky University, where he co-directs the WKU String Academy and runs various festivals. You can find his complete bio, recordings, and scholarship at andybraddock.com.
His project will commission a piece for multi-level viola ensemble. Each viola part will be written for a particular ability level, which will allow it to be played in studios and groups with a variety of students spread across different playing levels.

Christina Ebersohl is widely recognized for performances that combine fearless imagination, captivating emotions, and innovative programming. Currently she is pursuing her Doctorate in Viola Performance and Literature at the University of Illinois Urbana-Champaign with Liz Freivogel of the Jupiter Quartet, and is the Editor for the Journal of the American Viola Society. With the AVS mini-grant, Ebersohl has commissioned Michael Delfin—a composer and arranger who works with Boosey & Hawkes—to create a piano reduction from the orchestral score of the Egyptian Concerto by Attia Sharara so that this piece may one day be performed by high school and college students. Composed in the early 1900's, this piece is a perfect addition to the viola repertoire: it features neo-Romantic gestures, alongside Egyptian folk tunes that seamless combine the technicality and musicality of both Western and Arabic musical idioms.

Katherine Lewis is Professor of Viola and Director of the Illinois State University String Project and the ISU String Pedagogy MM sequence. Sought after as a pedagogue and performer, Dr. Lewis is committed to training the next generation of students and teachers through innovative pedagogical approaches in a supportive and nurturing environment. In her project, Dr. Lewis will be examining the ways Virtual Reality systems can be developed as pedagogical and research tools to better understand the bow arm and tone development. Using software developed at Illinois State University, she will design and develop a research study and begin to work through best practices for using VR in pedagogical settings.

Kaylie Pugh has been playing the viola for 19 years. She just completed her 7th year teaching Suzuki Strings in the Hurst-Euless-Bedford Independent School District in Texas. Her project is to put on a viola workshop and concert for all of the elementary Suzuki viola students in our school district. These students will have the opportunity to meet violists from other schools, work with clinicians, and hear from the principal violist of a local symphony.

Congratulations to these recipients for being selected, and we wish them success as they pursue their planned projects. The AVS Education Committee hopes to offer additional rounds of our mini-grant program in the future and look forward to your future participation as we develop this initiative.