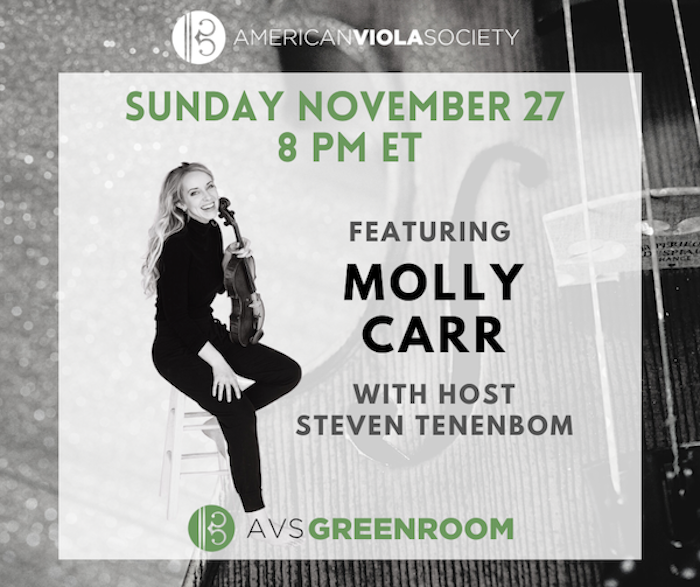 30 Aug

AVS Greenroom with Molly Carr

Please join us in the AVS Greenroom as we welcome Molly Carr!  Molly is the newest member of the Juilliard String Quartet and the Carr-Petrova Duo. She is on the faculty of the Juilliard School, the Manhattan School of Music, and the Bard College Conservatory of Music, and the founder and artistic director of the nonprofit Project: Music Heals Us.

Sunday, November 27, 2022
8:00pm Eastern Time
Live via Zoom

Each month, the AVS invites a notable violist into our virtual "greenroom" for an informal live discussion, with a Q&A opportunity for participants.  Our series is curated and hosted by Steven Tenenbom.

The AVS proudly provides this series free of charge to current members as a benefit of membership. Registration for the general public is $15. Following the event, all registrants  receive a link to the event recording to view at their convenience. Please join us!

About Molly:
Violist MOLLY CARR enjoys a diverse musical career as recitalist, chamber musician, educator, and artistic director. Hailed as "one of the most interesting interpreters of the viola today" (Codalario Spain) and praised for her "intoxicating" (New York Times) and "ravishing" (STRAD) performances, she has been the recipient of numerous international prizes and awards from the Primrose International Viola Competition, Chamber Music America, ProMusicis Foundation, Davidson Institute, Virtu Foundation, MAW Alumni Enterprise Awards, ASTA, and ARTS among many others.

Learn more at https://molly-carr.com/.