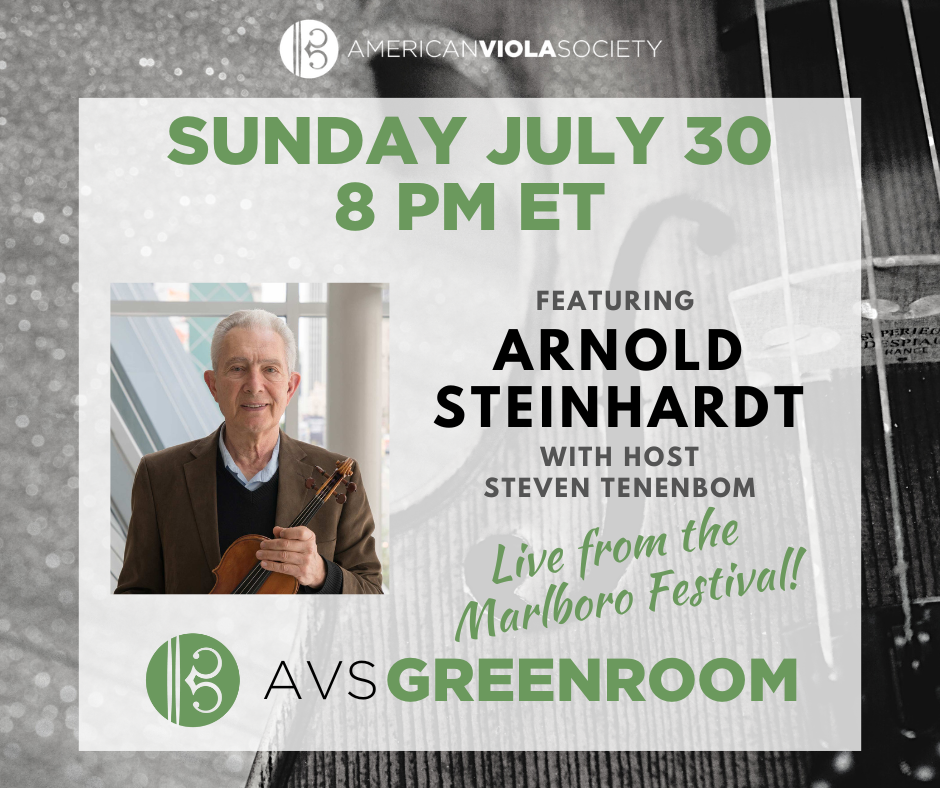 01 Apr

AVS July Greenroom

Please join us for the July installment of the AVS Greenroom Series, as legendary Guarneri Quartet co-founder Arnold Steinhardt joins our host Steven Tenenbom at the Marlboro Festival, where they are sure to discuss all things chamber music, and much, much more!

Sunday, July 30, 2023
8:00pm Eastern Time
Live via Zoom – from the Marlboro Festival!

Each month, the AVS invites a notable violist into our virtual "greenroom" for an informal live discussion, with a Q&A opportunity for participants. Our series is curated and hosted by Steven Tenenbom.

The AVS proudly provides this series free of charge to current members as a benefit of membership. As a gift to the viola community, admission to all of our summer AVS Greenroom events (June, July, and August) will be free to all.  Following the event, all registrants receive a link to the event recording to view at their convenience. Please join us!

About Arnold Steinhardt:

Arnold Steinhardt was born in Los Angeles, receiving his early training from Karl Moldrem, Peter Meremblum and Toscha Seidel, and making his solo debut with the Los Angeles Philharmonic Orchestra at age fourteen. He continued his studies with Ivan Galamian at the Curtis Institute of Music and with Joseph Szigeti in Switzerland under the sponsorship of George Szell.

Winner of the Philadelphia Youth Competition in 1957, the 1958 Leventritt Award, and Bronze Medallist in the Queen Elizabeth International Violin Competition in 1963, Mr. Steinhardt has appeared throughout North America and Europe as a recitalist and soloist with orchestras including the New York Philharmonic, Detroit Symphony, and the Cleveland Orchestra, among others.

Mr. Steinhardt is first violinist and a founding member (1964-2009) of the internationally acclaimed Guarneri String Quartet with which he has made innumerable tours across the globe and recorded dozens of albums for RCA Victor, Philips, Arabesque and Surrounded By Entertainment. He is professor of violin at Bard College and the Curtis Institute of Music, in addition to the Colburn Conservatory of Music.

Mr. Steinhardt has written two books: Indivisible by Four: A String Quartet in Pursuit of Harmony (Farrar, Straus and Giroux, 1998); and Violin Dreams (Houghton Mifflin, 2006). He is the author of articles which have appeared in Chamber Music America, Musical America and Keynote. Recipient of Honorary Doctorates from the University of South Florida and Harpur College, Arnold Steinhardt has also received an award for distinguished cultural service from the City of New York presented by Mayor Koch.

Mr. Steinhardt's recordings include Franz Schubert's complete works for violin and piano with Seymour Lipkin on Newport Classic, American Journey on Naxos Records featuring a variety of seldom heard American music and three new works written for him, two CD's on Sheffield Lab with pianist Lincoln Mayorga: Strauss and Dvorak and Romantic Music for Violin and Piano which he recorded "direct-to-disc"; and a TownHall recording of unaccompanied Bach works.

Mr. Steinhardt writes a monthly blog about music on www.keyofstrawberry.com. You can also find more information about him on his website at www.arnoldsteinhardt.com.

Arnold Steinhardt plays a Lorenzo Storioni violin from Cremona, Italy, late 18th century.