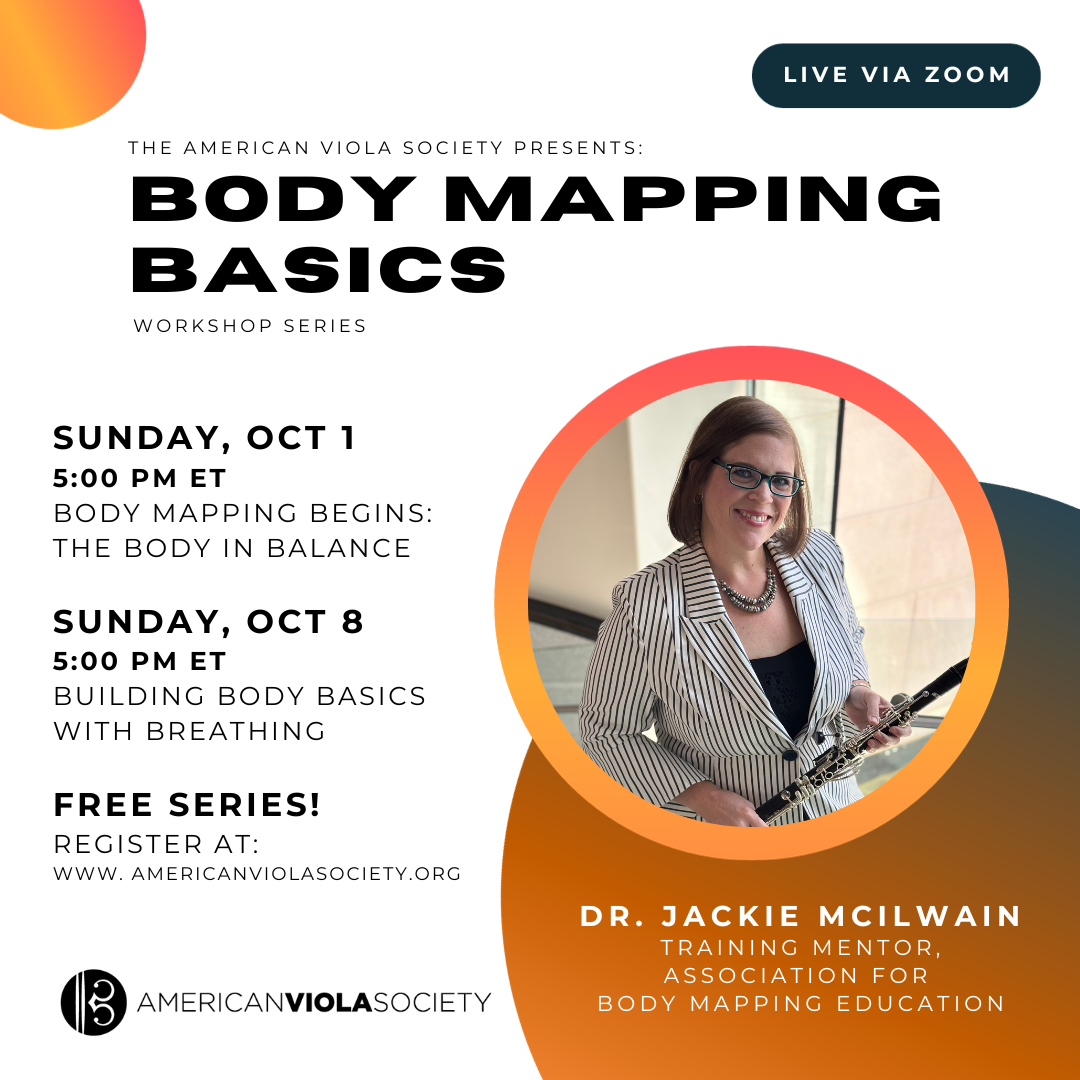 10 Oct

Body Mapping Basics Workshop Series – Recordings Available

Body Mapping Basics Workshop Series Recordings

On October 1 & 8,, the AVS presented a 2-session introduction to Body Mapping concepts with Dr. Jackie McIlwain, a licensed Body Mapping instructor and Training Mentor for the Association of Body Mapping Education. Please click on the links below to enjoy the event recordings!

Sunday, October 1 – Body Mapping Begins: The Body in Balance

Sunday, October 8 – Building Body Basics with Breathing

Body Mapping is a somatic practice that brings attention to our true musical instrument, the body, and how we use it to create music. This workshop series will provide a basic introduction to Body Mapping, a guide to balancing the body and instrument, and simple strategies to find more freedom, both physically and musically. Thank you to Dr. McIlwain for these informative sessions!

———————————

Bio:

Jackie McIlwain, D.M., is a passionate pedagogue whose innovative teaching infuses principles of Body Mapping and Alexander Technique, providing fresh ideas and perspectives that help her students not only grow musically but also challenges them to incorporate their whole selves into their music. Dr. McIlwain has been at The University of Southern Mississippi since 2013 and currently serves as Associate Professor of Clarinet. After recovering from a near career-ending injury with the help of somatic practices Alexander Technique and Body Mapping, Dr. McIlwain dedicated herself to bring this material into music education. She became a licensed Body Mapping Educator in 2017 and is currently a training mentor for the Association for Body Mapping Education. Dr. McIlwain has artfully woven these practices into her daily clarinet pedagogy and has been a desired presenter at international, national, and state conferences and a featured guest for music organizations. Body Mapping seminars and presentations have been sponsored by the International Clarinet Association, Association for Body Mapping Education, Lipscomb University, Florida Music Educators Association, Mississippi Music Teachers Association, Brigham Young University, Texas Christian University, Ohio University, University of Arizona, University of Alabama-Birmingham, Indiana University-Pennsylvania, Hutchinson Community College, Utah Valley University, Middle Tennessee State University, Slippery Rock University, Northwestern Louisiana University, and Pensacola Christian College. Her continued pursuit of studying the body for integration into music education is a continual process and led Dr. McIlwain to complete the Essentials of Performing Arts Medicine Course Certificate offered by the Performing Arts Medicine Association and American College of Sports Medicine, which inspired Dr. McIlwain to present a Musicians' Wellness Lecture Series at USM. A fruitful partnership with fellow Licensed Body Mapping Educator and clarinetist Dr. Shawn Copeland has resulted in two books: Body Mapping for Clarinetists: New Frontiers in Clarinet Pedagogy and The Breathing Book for Clarinetists . They have presented material from their books at The International Clarinet Association's ClarinetFest and will present at The Midwest Clinic in 2023, both of which were accepted after peer-reviewed processes. Drs. Copeland and McIlwain to serve on faculty at a Body Mapping educational and training business, mBODYed. Dr. McIlwain keeps an active performing schedule with solo, chamber, and orchestral appointments that have taken her across the country and abroad as a guest artist and soloist. Dr. McIlwain has been a guest artist at University of Indiana-Pennsylvania, University of Alabama-Birmingham, University of Idaho, University of Wisconsin-Eau Claire, Northwestern Louisiana University, Tulane University, University of Memphis, University of Arkansas, University of Central Arkansas, and University of Mississippi. She has performed both solo and chamber recitals at international conferences including ClarinetFest, Association for Body Mapping Education's Biennial Conference, International Trombone Association's Festival, International Double Reed Symposium, and Mid-America Clarinet Festival. Current chamber ensembles include Lucent Trio with Dr. Julie Detweiler, clarinet and Dr. Deloise Lima, piano; and the Magnolia Reed Trio with Dr. Galit Kaunitz, oboe and Dr. Kim Woolly, bassoon. Dr. McIlwain also regularly performs with Mississippi Symphony Orchestra, Meridian Symphony Orchestra, and Gulf Coast Symphony Orchestra in a variety of roles including Principal, 2nd Clarinet, Bass Clarinet, and Eb Clarinet. Dr. McIlwain can be heard on two albums. Most recently she has been featured on solo album Indefatigable performing Alan Theisen's "Symphony No. 2: Pas de deaux" with a review praising the piece and performance for its "exciting, virtuosic moments." Naxos recording Alchemize featured Dr. McIlwain on Joseph Schwantner's Luminosity "Concerto for Wind Ensemble". In addition to performing endeavors, Dr. McIlwain has also had many teaching opportunities including appointments at Muestra Internacional de Clarinete de Panama in Panama City, Panama; A Tempo Bogota in Bogota, Colombia; Tennessee Governor's School for the Arts; and Fine Arts Summer Academy in Nashville, TN. She also served as a panelist and featured presenter on the webinar series Steel City Clarinet Connections. Dr. McIlwain received her DM from The Florida State University, MM from Indiana University, and BM from Middle Tennessee State University. Her clarinet teachers respectfully include Dr. Frank Kowalsky, Prof. Howard Klug, and Dr. Todd Waldecker. The summer music festivals she attended include ARIA Music Festival and Sewanee Summer Music Festival. Dr. McIlwain's primary Body Mapping teachers include Dr. Andree Martin and Dr. Stephen Caplan. Professional service and involvement include memberships to the Association for Body Mapping Education and Mississippi State Chair for the International Clarinet Association. Dr. McIlwain was humbled to accept an invitation to become a Vandoren Artist-Clinician in 2017 where she has the privilege to present Vandoren clinics to clarinetists of all ages in schools ranging from middle school to universities. She exclusively performs on Buffet clarinets with Vandoren mouthpieces, ligatures and reeds.