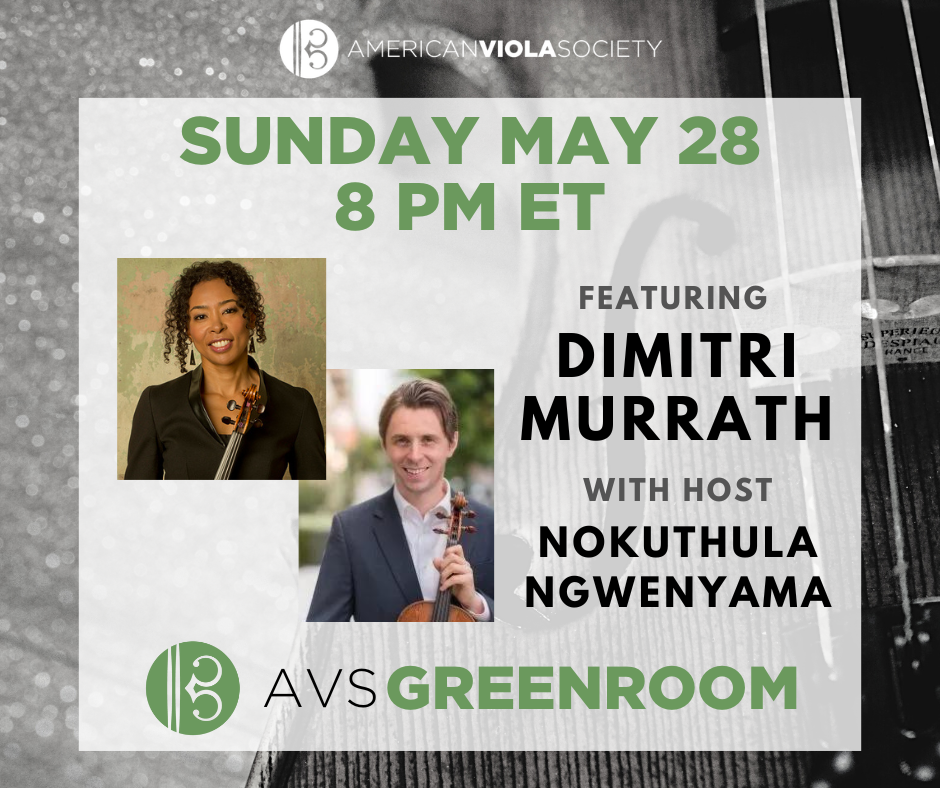 01 Jan

May AVS Greenroom

Please join us for a very special AVS Greenroom featuring Dimitri Murrath and guest host Nokuthula Ngwenyama! The conversation is sure to be electric when these two Primrose Competition winners compare notes – don't miss the chance to listen and join in!

Sunday, May 28, 2023
8:00pm Eastern Time
Live via Zoom

Each month, the AVS invites a notable violist into our virtual "greenroom" for an informal live discussion, with a Q&A opportunity for participants.  Our series is curated and hosted by Steven Tenenbom.

The AVS proudly provides this series free of charge to current members as a benefit of membership. Registration for the general public is $15. Following the event, all registrants  receive a link to the event recording to view at their convenience. Please join us!

About Dimitri Murrath:
Born in Brussels, Belgian American viola player Dimitri Murrath made his mark on the international scene, performing as a recitalist and soloist in venues including Kennedy Center (Washington), Wigmore Hall, Purcell Room, Royal Festival Hall (London), and Théâtre de la Ville (Paris).

A first prize winner at the Primrose International Viola Competition, Dimitri Murrath has won numerous awards, including top prizes at the Tokyo International Viola Competition and ARD Munich Competition. In 2012, he was named laureate of the Juventus Festival, an award recognizing young European soloists. He is a recipient of a 2014 Avery Fisher Career Grant through which he recorded and released his first solo album recording music by Vieuxtemps, Clarke and Hindemith in 2017.

An avid chamber musician, Mr. Murrath is the violist of the Esmé Quartet since 2023. Prior to that, he was a member of the Boston Chamber Music Society from 2013 to 2023. He has collaborated with Richard Goode, Gidon Kremer, Menahem Pressler, Mitsuko Uchida, and members of the Cleveland, Mendelssohn and Guarneri Quartets. He has performed in festivals that include Verbier, Caramoor, Juventus, and Marlboro.

Dimitri Murrath began his musical education at the Yehudi Menuhin School studying with Natalia Boyarsky, his Bachelor of Music in London with David Takeno at the Guildhall School of Music and Drama and graduated with an Artist Diploma from the New England Conservatory as a student of Kim Kashkashian.

After 9 years teaching viola at New England Conservatory, he is currently Professor of Viola and Chair of Chamber Music at the San Francisco Conservatory of Music.

Dimitri Murrath participates in the Music for Food project, which raises awareness of the hunger problem faced by a large percent of the population, and gives the opportunity to experience the powerful role music can play as a catalyst for change.

'The warm and noble tome of Mr. Murrath's viola glowed fiercely – for me the highlight of the concert.' New York Times
A.D., New England Conservatory. BMus, MMus, Guildhall School of Music and Drama. Studies with Kim Kashkashian, Natalia Boyarsky, and David Takeno.
Faculty: San Francisco Conservatory of Music

About Nokuthula Ngwenyama:
"Mother of Peace" and "Lion" in Zulu, Nokuthula Ngwenyama's performances as orchestral soloist, recitalist and chamber musician garner great attention.  Gramaphone proclaims her as "providing solidly shaped music of bold mesmerizing character."  As a composer, Uptown Magazine featured her "A Poet of Sound."

Ms. Ngwenyama gained international prominence winning the Primrose International Viola Competition at 16.  The following year she won the Young Concert Artists International Auditions, which led to debuts at the Kennedy Center and the 92nd Street 'Y.'  A recipient of the prestigious Avery Fisher Career Grant, she has performed with orchestras and as recitalist the world over.

This 2022-23 season Ms. Ngwenyama joins Jaime Laredo, Sharon Robinson and Anna Polansky for piano quartets including Elegy written for the Kalichstein-Laredo-Robinson Trio.  Supported in memory of Carole and Harry Hoffheimer and world premiered last season with the Linton Chamber Series, co-commissioner summer performances at Brattleboro Music Center, Hudson Valley Chamber Music Circle and Lake Champlain Chamber Music Festival were received with much acclaim.  The premiere tour continues with Arizona Friends of Music, Chamber Music Monterrey Bay, Chamber Music Northwest, the Kennedy Center, Peoples' Symphony Concerts, Philadelphia Chamber Music Society and Phoenix Chamber Music Society.

As a member of the group Umama Womama, Ms Ngwenyama joins fellow instrumentalists and composers Valerie Coleman and Han Lash on the New School Concerts performing their jointly written trio commissioned by Chamber Music Northwest, Phoenix Chamber Music Society and Clarion Concerts.  Ms. Ngwenyama appears with Ms. Coleman, the Elixir Piano Trio and the Phoenix Boys Choir on Composers' Choice, an annual co-production of Phoenix Chamber Music Society, ASU Kerr Cultural Center and Peace Mama Productions she curates, performing Arizona Duets for violin and viola and the world premiere of Finding the Dream, commissioned by John Clements and the Phoenix Boys Choir.  Primal Message, an homage to the Arecibo message that received its orchestral world premiere with Maestro Xian Zhang and the Detroit Symphony Orchestra in 2020, continues to receive performances worldwide, including with the London Symphony Orchestra, Chicago Symphony, Phoenix Symphony St. Louis Symphony and the Scottish Chamber Orchestra virtual broadcast. 

Ms. Ngwenyama has performed at the White House and testified before Congress on behalf of the National Endowment for the Arts (NEA).  An avid educator, she served as visiting professor at the University of Notre Dame and Indiana University Jacobs School of Music.  She also served as director of the Primrose International Viola Competition and is past president of the American Viola Society.

Born in Los Angeles, California of Zimbabwean-Japanese parentage, Nokuthula Endo Ngwenyama  (No-goo-TOO-lah EN-doh En-gwen-YAH-mah) studied theory and counterpoint with Mary Ann Cummins, Warren Spaeth and Dr. Herbert Zipper at the Crossroads School.  She also appeared on Sylvia Kunin's Emmy-nominated 'A Musical Encounter' series with host Lynn Harrell and was orchestral soloist in the American Film Foundation documentary Never Give Up: The 20th Century Odyssey of Herbert Zipper.  She is an alumna of the Colburn School for the Performing Arts (now the Colburn Community School of Performing Arts) and the Curtis Institute of Music, where her theory and counterpoint teachers were Edward Aldwell, Jennifer Higdon and David Loeb.  As a Fulbright Scholar she attended the Conservatoire National Superieur de Musique et de Danse de Paris and received a Master of Theological Studies degree from Harvard Divinity School.  She is the first composer in residence of the Phoenix Chamber Music Society and plays on a 1597 Antonius and Hieronymus Amati viola from the Biggs Collection.